In Memory
Tom Baldwin (Faculty/Coach)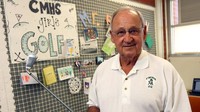 Mr. Baldwin died from complications from Parkinson's Disease on Tuesday, March 21, 2017 at the age of 86. He affected many during his 49 years as a high school teacher at Santa Ana High School, Santa Ana Valley High School and Costa Mesa High School. He retired in 2010..
He is survived by his wife, Carol and two children, Danny and Tina
A memorial service for longtime Orange County football coach Tom Baldwin will be at Santa Ana Stadium on April 30 starting at 2 p.m.
See link below for an article about his life and career:
http://www.latimes.com/socal/daily-pilot/sports/tn-dpt-sp-tom-baldwin-costa-mesa-football-santa-ana-20170322-story.html