In Memory
Tonie Mendoza (Peckham)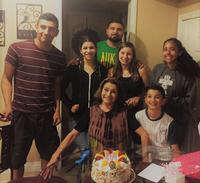 Antoinette "Tonie" Mendoza Peckham
Born: April 28, 1947
Died: November 3, 2020, Anaheim, CA
Died of complications due to cancer
Survived by her children, Rico Perez, Anthony Perez, and Jennifer Peckham; Grandchildren: Joseph Anthony, Lauren, Jessica, Justin, Anthony, Jayleena
Services:
Mass - November 23, 2020, 10:30 AM, Our Lady of Pillar Catholic Church, 1622 W. Sixth Street, Santa Ana, CA 92703
Burial - November 23, 2020, 12:30 PM, Forest Lawn, 4471 Lincoln Ave, Cypress, CA 90630
Condolence cards may be sent to the family in care of:
Anthony Perez, 659 N. Lancer Drive, Anaheim, CA 92801
---
From Paula Pletcher (DiLuigi): Tonie has always been a breath of fresh air for me with her positivity as well as her kind and loving spirit. She's been one of those who I could constantly count on to post funny, poignant and insightful messages, which I know we've all appreciated. It's been such a blessing for me to have reconnected with her after so many years. Tonie, we will miss your kind and loving spirit -- I know you're with the angels now, rest in peace dear friend
From Chris Rodgers: i hope we remain in her heart as much as she remains in ours.
From Bill Carpenter: The Worlds lost a bit of its luster without Tonie around.
From Rose Ann Tapp (Nygren): Heaven has received another sweet, beautiful,kind angel. May you Rest In Peace our beloved Tonie🙏
From David Weaver: the world has lost an incredable human being but God will be happy with the ANGEL that came to him this morning...my keyboard is wet with tears...I will miss you Toni...we all love you so much!!!
From Patricia Gentile (Welch): This is very sad news. We've lost a kind and inspiring soul. Her outlook uplifted our spirits whenever she wrote an entry on this blog. She is in heaven surely. Sending prayers to her familly to bring them solace.
From Mark Larson: It is very disappointing to hear that Tonie has left us. I knew Tonie only through this site. (On that topic, thank you, very much, Paula, for your great work.) Her posts were always so positive and respectful to everybody. This is a great loss for us and, obviously, her family.
From Linda Luce (Ferdinand): I would like to extend my deepest sympathy to Tonie's family. May you find peace & confort knowing that your grief is shared by so many. Your mom will sorely be missed.
God bless you and your wonderful family. Tonie, rest in peace.
From Ann Williams: So sorry to learn she has left us. Her Family, her friends. She certainly made herself known by her many comments on this Forum! Because I didn't know her in school. But she'd become one of the 'Regulars' on this mesage forum, and so she became a familiar voice, like several of you are! May she Rest In Peace. And to her Family, my deepest condolences.
From Larry Fulcher: Probably like most of us, I knew Tonie better thru this site than remembering her in school. God's rest to a very sweet and gentle spirit.
From Barbara Wiley (Rolf): I sat next to Tonie in one of my classes in 7th grade at Smedley. She was such a sweetheart. She didn't talk much (but, then, neither did I), but she always had a ready smile. She will be missed.
From David Hagge: Long time friend...smedley..valley..love. that girl....