In Memory
Robert Briskham Samuels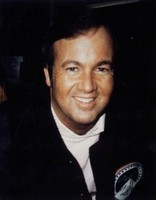 Born:

Sep. 20, 1948, Craven County
North Carolina

Died:

Dec. 7, 1988, San Fernando, Los Angeles County, California


Bob grew up in Santa Ana, California. He graduated from Santa Ana Valley High School.

He always loved photography. Bob was a diligent hard worker. Finally he landed his dream job. He worked behind the scenes on many well known films in Hollywood, as an assistant camera man. The hours were long but Bob loved his work.

In 1980, at the age of 32, Bob married Mary Ellen Gurnick. He adopted her young daughter and loved her as his own. He was madly in love with Mary Ellen. He thought he had everything he had always wanted. He had a beautiful wife and a ready made family. Bob was a kind, patient, hard working and loving family man.

After 6 years in a very problematic relationship, with several separations, Bob bought a condo for Mary Ellen. Bob hoped Mary Ellen would curtail her partying and care about their relationship. They lived apart for the next 2 years. He continued to pay for her daughter's private school. He supported Mary Ellen emotionally and was her sole financial support. Bob hoped the relationship would improve. Finally in 1988, he accepted the fact that Mary Ellen had no interest in curtailing her party habits and the marriage really was over, a long time ago. Bob decided to divorce Mary Ellen.

Within weeks, Bob was killed in a murder-for-hire plot, arranged by his estranged wife Mary Ellen Gurnick Samuels. They were not yet divorced, so she inherited Bob's home and everything that he had worked for 20 years to save. She collected on his life insurance. She claimed to be a grieving widow but wouldn't even place a headstone on Bob's grave. Bob's dearest friends and his sister provided his headstone.

Due to lack of evidence, no one was charged with Bob's murder. At first it seemed that Mary Ellen would go scot-free. Eventually, she had a falling out with her drug dealing friend, Jimmy Bernstein, the hit man who she had paid to kill Bob.

Mary Ellen hired Paul Gall & Darrel Ray Edwards to kill Jimmy Bernstein. After Bernstein's murder, Ann (Paul's girlfriend) turned them all in. Paul Gall testified against Mary Ellen. He has served his prison term and has been paroled. Darrel Edwards is still in prison. In 1994 Mary Ellen was convicted of 2 counts of 1st Degree Murder, she is currently serving a life term in a California prison.

Bob was a kind hearted nice guy, who was well liked by all who knew him. He died at the age of 40 years, 2 months. Bob is buried at Santa Ana, California.

I'm not telling any secrets. Bob's story has been shown on national TV. Bob's story was chronicled on an episode of "Nothing Personal".

R.I.P. Bob.
Source of article: Ancestry.com, "Find A Grave"