In Memory
Terry Allen Grouse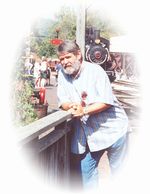 Born: December 23, 1946
Died: September 29, 2008, Mansfield, Arkansas
Married in 1972 to Linda K Woodsmall (SAV Class of '68)
Obituary:
Mr. Terry A. Grouse of Mansfield, Arkansas passed away at his home on Monday, September 29, 2008.
Mr. Grouse was a mechanic by profession.
Mr. Grouse was preceded in death by his parents.
He is survived by his loving wife of 36 years: Linda Grouse of the home; three wonderful daughters: Melanie Hutchins and her husband: Brian, of Mansfield, Arkansas, Danae Hudson and her husband: Sean, of Charleston, Arkansas; and Nancy Thompson and her husband: Robert of Mansfield, Arkansas; a wonderful son: Chad Grouse and his wife: Lori of Shawnee, Oklahoma; 10 precious grandchildren: Brock, chase, Seth, Bailey, Miranda, Tori, Logan, Hunter, Conner, and Sianna; a sister: Juanita Seatch; a aunt: Claire Allen; a sister-in-law: Teri Allette, a brother-in-law: Joey Allette; and many, many friends.
Funeral service was held on Saturday, October 4, 2008, at Coop Prairie Cemetery in Mansfield, Arkansas.
Pallbearers were his grandsons and his sons-in-laws.
Information from Ancestry.com