ANNOUNCEMENTS

Last performance in 2019!!!!
John Vaught's Band, "NOT DONE YET"
November 21, 2019 ~ 6 PM to 9 PM
Citrus Cafe
481 Edinger Avenue, Tustin
(corner of Edinger & Redhill)

Come and enjoy the band's last performance in 2019!
It's great music accompanied by great food!!
Plus, you will probably run into some familiar Falcon faces!
Questions?? contact rjohn31@yahoo.com
If you can't make it this time, the band will be back on January 23, 2020,
so be sure to mark that on your calendar........
---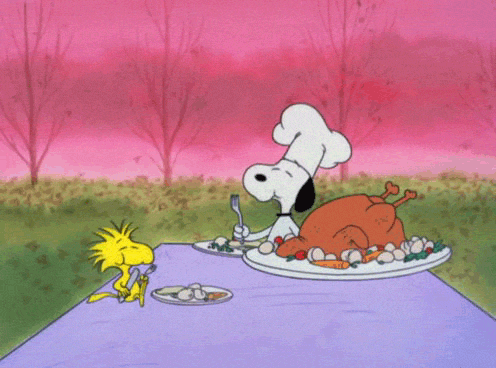 Happy Thanksgiving '66 Falcons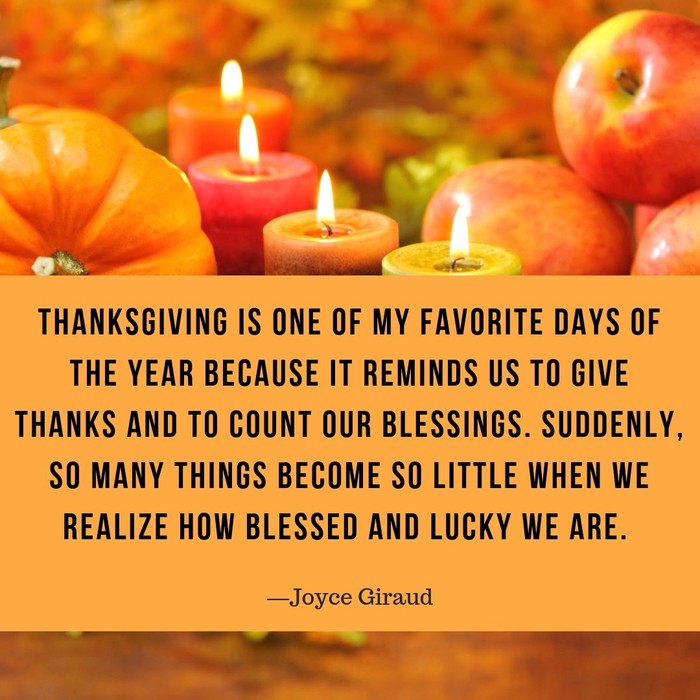 ---

CONGRATULATIONS,
BOBBY CARROLL!!
INDUCTED INTO
SAUSD HALL OF FAME
ON SEPT 9, 2019
This honor is reserved for individuals recognized for
their exceptional contributions and achievements as
Athletes, Coaches, Administrators
and/or contributors to the programs they served at
Santa Ana High, Santa Ana Valley, Saddleback, Century,
Segerstrom or Godinez High School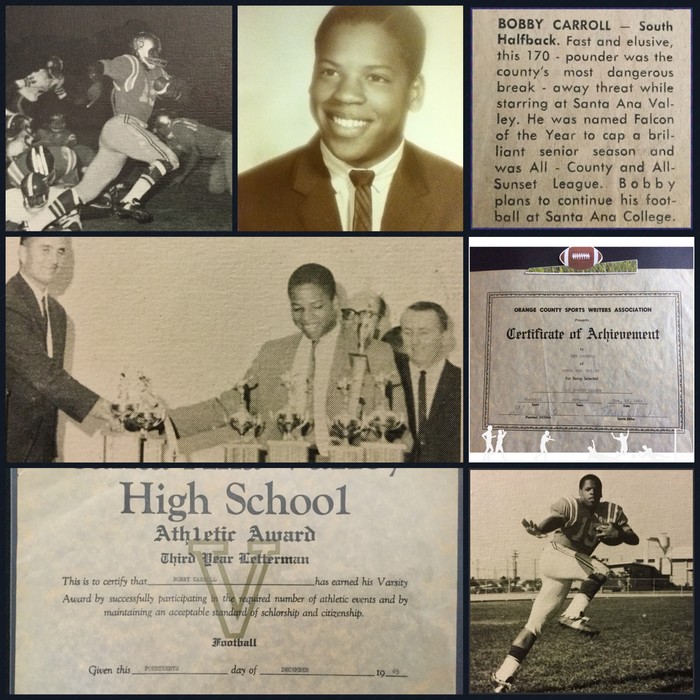 Congratulations, Bobby!
You do the SAV Class of '66 Proud!
---
Gary Meek - Class of 1967 -
Go Fund Me Page set up
Extensive Medical Expenses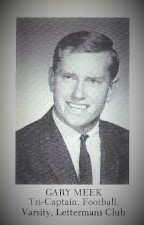 Gary Meek, Outstanding Athlete from the Class of 1967
recently inducted into the
Santa Ana Athletic Foundation Hall of Fame
on October 13, 2019
The following article about Gary appeared on the Santa Ana College Dons Website:
Gary Meek
Gary Meek was one of the great Santa Ana College linebackers from 1967 to 1968. After starring for the Dons for two seasons, Meek earned a scholarship to San Diego State University where he helped the Aztecs win the Pacific Coast Athletic Conference championship in 1969.
That same year, the Aztecs also won the Pasadena Bowl 28-7 against Boston College to complete their 12-0 undefeated season. Meek finished his career as an Aztec with a 20-2 record. When his playing days were over, he began coaching and teaching at Mater Dei High School until making the move to Esperanza High School in 1976 where he launched a hall of fame coaching career, winning two CIF championships and seven league championships with a record of 154-50-2.
Meek also served as the Athletic Director at Esperanza from 2003-2010 and was named Southern California Athletic Director of the Year in 2005. He was inducted into the California High School Football Hall of Fame in 2006.
Gary has been married to his wife Sharon for 50 years and has two daughters and a son who also played football and is currently coaching at Santa Ana College.
---
Unfortunately, Gary has suffered some severe health issues since 2018.
The following Go-Fund-Me page (see link below) has been established.
More details concerning his health challenges are included on this site (it's extensive what he's been through)!
I'm sure any size donation would be gratefully accepted!
https://www.gofundme.com/f/gary-meek039s-army
---
Welcome to the SAV Class of 1966 Website!
Welcome Santa Ana Valley 1966 classmates! This website is a private website and ONLY accessible by SAV 1966 classmates.
The website started in January 2016 with the primary goal of getting everyone to reconnect, reminisce, and just be friendly and supportive to each other as well as to let everyone know about the 50th Reunion that was held in September 2016. Even though now our 50th Reunion Celebration has ended, we hope everyone will continue to enjoy staying connected on this website. We know you'll thoroughly enjoy reconnecting and seeing what everyone has been doing the past 50 years. In addition, there are lots of photos that have been posted by classmates, including many from our very successful 50th Reunion weekend.
If you are a SAV 1966 classmate, just go to the sign in box and click on "Join." The next page that pops up will be a complete list of 1966 classmates. Find your name and click on it, and the program will then guide you through the rest of the registering process. There are no individual subscription fees to join. Once again, the website is totally private and secure and no information is shared by any other entities. You can share as much or as little information about yourself as you wish.
Please check out the "Missing Classmates" link on the left side of the screen. If you are aware of the whereabouts of anyone included on that list, please let them know and encourage them to sign up on the website.
We encourage all SAV 1966 Classmates to join! You won't regret it!
"Finding a lost friend is like finding a lost treasure"
---
---
WHAT IS MEMBER CHATTER???

MEMBER CHATTER .....A PLACE TO SHARE YOUR RANDOM THOUGHTS
HEAR STORIES FROM YOUR CLASSMATES ABOUT THEIR...
Hobbies
Interests
Travels
Food & Wine (lots of that)
Memories
Jokes
And all sorts of other things..............
Anyone can post in it. "Member Chatter" can be accessed by clicking
on "Member Chatter" on the left hand column of your screen
---
Finding Missing Classmates
In spite of making tremendous progess in tracking down classmates to join the website, we still have MANY, MANY missing people as can be seen by checking out the "Missing Classmates" link on the left side of the screen.
If you have any information about anyone on the 'Missing Classmates" list, please let us know by messaging Paula Pletcher DiLuigi with whatever information you might have. If you are in communication with anyone on this list, it would be WONDERFUL if you would reach out to them and encourage them to join. Please let any 1966 classmate know that they can go directly to the website, www.66savalleyfalcons.com to register.
---
WE WANT TO SEE YOUR PHOTOS!!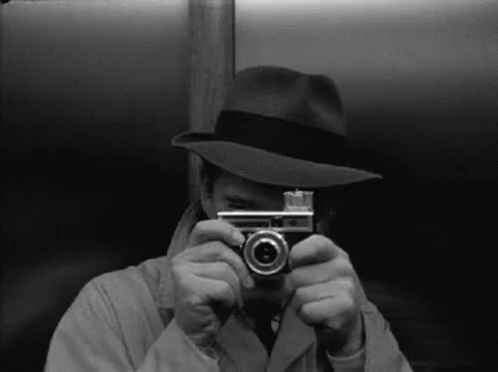 It's easy to add your own photos,
just
click on the "Photo Gallery" Link
on the top right of your screen,
then follow the instructions at the bottom of the page
WE LOVE TO SEE EVERYONE'S PHOTOS
---

In case some of you haven't noticed,
there are 3 links at the left of your screen profiling music
by OUR VERY OWN excellent musicians....
Larry Fulcher, Joe Daigle & Dan O'Steen
CHECK IT OUT!
"Our Bluesman, Larry Fulcher"
"Compositions by Joe Daigle"
"Dan O'Steen, Super Saxman"
We continue to be amazed by our many talented classmates!
Note: If you logging onto the website from an Iphone or Ipad, you will be unable to listen to the music due to technical issues within the website. If you log into the website from your computer, it should resolve the issue and will allow you to hear it.

---
Hey Falcons!
check out our new website link on the left side of the home screen
"WE LOVE OUR PETS"
~ Or ~
click on the "Photo Gallery" in the upper right-hand corner of your screen,
then open the folder "We Love our Pets"
We pet lovers love to remember our favorite furry friends, so please share any photos of your past or present pets by going to "Photo Gallery," Click on the folder "We Love our Pets', then at the bottom of the screen click "add/edit Photos" and it will walk you through the rest of the how to upload your photos.
If you have problems with uploading, just send your photo to: pldiluigi@gmail.com. Please be sure to include your pet's name and any other information you'd like included and we'll post it on the website for you!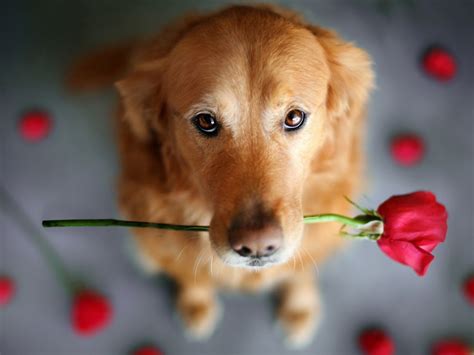 ---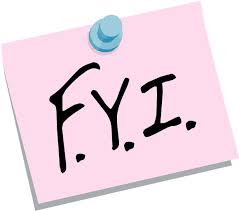 Just a reminder that you have an option on your profile settings to allow (or not allow) classmates to make comments on your profile page
If you you're not sure about how you initially established your profile settings, you can do the following to check:
Click on the Person Icon in the upper right hand corner of the Home page

Click on "Edit Profile"

Under "Classmate comments" check to see if the box if checked*

If you make any changes, make sure you click on the box at the bottom of the page "save changes"
*There have been some classmates who didn't realize they had inadvertently set their profile settings so no comments could be made. You always have the option to delete a comment on your profile page if you don't like something that is said.
---
Joe Daigle's new Patreon page is now LIVE!
Click on http://www.patreon.com/josephdaigle
There are countless medical benefits to listening to music....with no side effects
Let's all help support Joe with his music, plus it's a great stress reliever which we all need these days!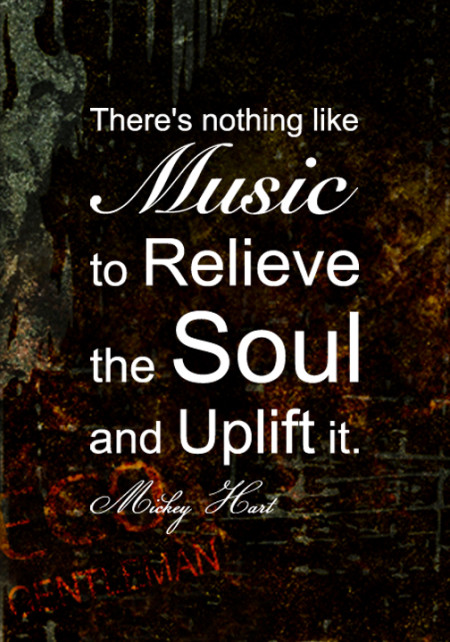 ---
A new author is in our midst!
We are proud to announce that Suzi Furry has just released her new book
"Dawn to Dusk"
,,,,,,,A collection of stories and poetry unique to a journey through a life of unexpected adventure
Available for purchase now on https://www.createspace.com/3777891
Available soon on Kindle
Check it out.........another '66 SAV Classmate making us proud


---

Tell us (or brag) about your weddings, kids, grandkids, retirement, hobbies, travel, etc.!!
Post all of this on your Personal Profile, What's News or General Member Chatter.
If you want to share photos about your family, pets, vacations, etc., you can post them on your profile page, What's News, or in the "photo gallery" (on the left side) of the home page.
We all love getting news and updates!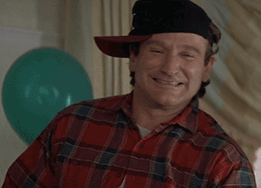 ---